ATV Tire Chains
HARDENED STEEL V-Bar CROSS CHAINS Or STUDS FOR INCREASED WEAR AND TRACTION
Heaviest Duty
ATV Tire chains available!

Compare Ours to the Competition
It is not all about price.

OURS: Thicker

THEIRS: Thinner

OURS: Heavy Duty Hooks and Side Chain


THEIRS: Light Duty Hardware
OURS: 2 Studs Per Link
OURS: Zinc Coated


THEIRS: 2 Studs Every other link
THEIRS:Clear Coated
THEIRS: Thinner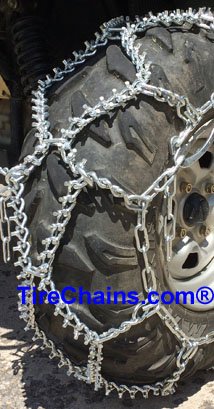 Click For Detail
Studded Diamond
ATV Tire Chains
FAQ on ATV Snow Tire Chains
What is the difference between 2 and 4 link spacing? Spacing is defined as the number of side chain links skipped between cross chains. For 2 link spacing, cross chains occur every 2 side chain links. For 4 link spacing, cross chains occur every 4 side chain link.
Which is better 2 or 4 link spacing atv tire chains? 2 link is always better. It provides for a more consistent ride by having more chain on the face of the tire. Therefore, helping to reduce the bumpy ride from being on chain - off chain. 2 link is always recommended for steering tires, since it allows more steering control.
Why are ATV tire chains only available in V-Bar? V-bar ATV tire chains are helpful on hill, ice and hard packed conditions. V Bar or Studded ATV Chains are not recommended on pavement since they can damage the surface it the tires begin to spin.
Which tire chain style provides the best traction?Studded Diamond ATV Snow Chains are the best. 2 link is the next.
For deep tread which style is recommended?2 link is better than 4 link. Studded or Non Studded Diamond ATV-UTV  Chains are the best for keeping the chain on top deep lugs.
Do I have enough clearance between the tire, struts, or control arms? Check your your owner's manual, vehicle manufacture or dealer to confirm adequate clearance. Click here for a picture of a clearance problem.
Why should I pay more for TireChain.com ATV Studded Tire Chains? We have 2 studs per link, theirs has 2 studs every other link.  Ours is zinc coated, theirs is clear coated.  Ours is thicker.


Installation InstructionsClick here for detailed installation instructions for garden tractor tire chains.
For easier installation of two and four link chains see ourSno-Chain Ramps .
"Fit All ATV Tire Chains" Chain type A
17" wide x 76" long
Fits most 26", 27", and 28" tire diameter
with 10" or 11" tread width.
for example: 26x11x12

click here

"Fit All" Snow Chains type B
22.3" wide x 65"long
Fits most 26", 27", and 28" tire diameter
with 12",13" or 14" tread width.

click here
Can't find your size? Click here
| | | |
| --- | --- | --- |
| Availability: | | in stock, orders placed before 3pm EST usually ship same day |
| | | this style is not made for this size |
| | | temporarilyout of stock |
Snow Tire Chains Accessories:
Snow Chains Tensioners/Adjusters
Keeps the atv tire chains tight and in place - thus maximizing the life of the chains. Adjusters or another
tensioning device is a must for best performance. Mounts to the side chain on the outside of the tire.
One pair per set is recommended for all tire chains except cable and diamond car/truck  chains.
| Description | Price/Pair | Order |
| --- | --- | --- |
| SPRING Adjusters fits Garden Tractor and Snow Blowers | $13.65 | Add to Cart in stock |